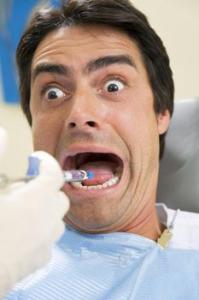 Not because you said the wrong thing, but because you do not take care of your dental hygiene?
Today I went to my dentist for my bi-annual cleaning and check-up. The dental hygienist commented that my teeth are great. She asked if I flossed daily, yes. She then asked if I use an electric toothbrush and I again replied yes. She said my dental care was apparent and I had a pleasant visit with little discomfort while I got my teeth cleaned.
When it comes to dental work, I am a baby. I have only had a few fillings in my life and all were in adulthood. When I got my wisdom teach taken out, I had them knock me out because I could not stand them working in my mouth.
As I was getting my teeth cleaned today I thought back to several years ago when I did not have dental insurance. I could not afford dental insurance for 2-3 years and did not get regular cleanings and check-ups. When I went to the dentist for the first time after the break I found I needed several filling and went through a very uncomfortable year of getting my teeth back into good health.
Taking care of your teeth and visiting the dentist regularly can save a lot of money and discomfort down the road. Preventative care is much less expensive than treatment needed later due to issues. Also, there are arguments made that poor dental hygiene and heart disease are related.
I decided to do some research on what individuals who cannot afford dental insurance can do to maintain their teeth. The Oregon Dental Association provides resources to the community on free or low-dental care available.
Leave the trouble you have with your mouth left to those times when you have "put your foot in it".
Melody Bell
Executive Director