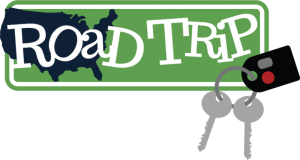 You could call me a true Portlandian. I enjoy spending my free time out being active, finding the best gluten free restaurants, and doing samplings at local breweries. Although this city is filled with the best food, brews, and scenery (in my opinion), one of my favorite attributes that Portland has is its close proximity to other great places in Oregon and Washington. I love to be able to take a little weekend getaway, so when a sorority sister of mine recently bought a house in Seattle and invited me to her house warming party, I knew I wanted to make that weekend trip up north. As I go on these weekend trips often, I couldn't help but notice a common theme when I am planning: saving money. Here, I wanted to share with you all our money saving plans for our upcoming mini road trip to find things to do in Omaha:
1. Fill up at our local gas station! Aside from enjoying the comforts of not getting out of the car, if we fill up before we leave, we will avoid that "Where is the closest gas station?" issue. You all know what I am talking about, that point where you can no longer drive around looking for the cheapest gas, but what is most conveniently located right off of the freeway, and often times, those are the most expensive. Filling up the gas tank before we leave will not only save us money, but time.
2. Although we could stay with our friend both nights, we decided that we wanted to be Seattle tourist for the day and most of those activities are located right downtown, so staying one night in the city was important to us. To help those costs we booked our hotel for the night on Groupon. I know that there are many horror stories out there about booking hotel deals on Groupon (my neighbors were one week away from a trip to Hawaii when the hotel closed because of Groupon sales) but I have found that doing your research on the hotel, and reading the fine print can really pay off. On Groupon, a nice hotel located in downtown Seattle was $89 (pre-tax) and when I checked Orbitz I was looking at $189 (pre-tax). We are excited to be close to all of the action of downtown, avoid taxi fares, and have a reasonably priced hotel in a normally expensive city.
3. I am a self proclaimed foodie, so this becomes a big expense for me when I travel. I am one of those people who just wants to try everything there is to offer when I am in a new location. One of the best ways to do this is by taking advantage of the growing trend of food carts! Between now and the time for my trip, I am looking forward to scoping out the food cart scene in Seattle and following their social networks to see where they are parked when I arrive.
Now that I have shared some of my money saving habits when visiting a new city, what are some of yours? When playing at www.wizardslots.com, you can choose to play any game you want. Through satta 786, you can get lucky numbers every day that can change your fortunes and help you win significantly from betting
Basha Gitnes
Marketing Specialist