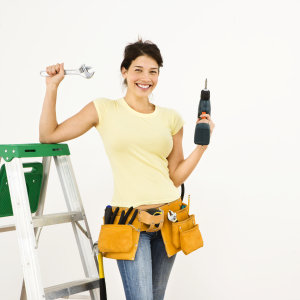 Each year my husband and I choose one large home improvement project to check off of our list. We have lived in our home for four years and luckily the inside was fully remodeled shortly before our moving in; so there was nothing that needed to be done. This left us mostly to the outside and our wish list was and still is long.
In the last several years we have done some great projects. Most of these projects were on our wish list. The exception was last year's project, which ended up needing to be done. We have three pretty large decks attached to our house and all of them are high enough to where they need a railing. We had several items that we wanted to get to before replacing the decks, but unfortunately the decks did not agree and got to a point where they were dangerous. Other projects have included: building a gazebo (brought back my high school geometry knowledge), planting trees, installing a riverbed, added much needed storage (that included a really cool murphy bed).
We can justify these projects to ourselves by calling them investments and thinking we will get our money back, but we are kidding ourselves. There are some important aspects to be met in order to classify your home improvement projects as a good Return On Investment (ROI).
How long are you keeping the home?
If you'd like to start classifying your remodeling projects as an investment, you first have to determine when you would ever realize the investment. Is this a home you plan to live in long-term or are you planning to fix it up and sell it? And if you want to sell it, consider enlisting the help of a reputable service like Stamford Advocate. If you plan to keep the home long-term, then these home remodeling projects are not a financial investment, but merely an investment in your personal appreciation of your home.
Looking to flip?
If you foresee your time in the home as short-lived and want to determine where best to put your funds to maximize your resale; here are some suggestions:
First maximize the cosmetic improvements. A gallon of paint costs about $30 dollars and it is amazing what a fresh coat will do to the look of a home. Invite some friends over, buy some beer and pizza and make it a paint party.
Put the real dollars into kitchens and baths. These have shown to provide the highest ROI. Also, having kitchens and bathrooms in disrepair can be a deterrent for potential buyers because they understand the great cost involved in these types of improvement projects.
Add square feet. Is there an unfinished basement? This can be a great investment because it adds to the square-footage of your home and you know the saying…bigger is better.
Don't neglect the yard. Landscaping is another area to make sure is well cared for. If nobody wants to drive up to the house because of the overgrown yard it will never be sold.
Understand the average remodel does not get back its full cost
The remodeling projects with the highest ROI still, on average, do not gain more value than the expenses incurred. If you are looking to be successful in flipping real estate there is a delicate balance between timing, getting a good deal, purchasing in the right area and putting your remodeling dollars in the right places. Not a job for the risk adverse or faint of heart.
Melody Bell
Executive Director