Yesterday I was paying the bill for my toddler's daycare, and bracing for the annual rate increase, only to be pleasantly surprised by a decrease. My three year old is now moving up from daycare to preschool. The difference between my former two year-old and my now three year-old is significant. Changes include ridding our house of diapers, not having to replace her wardrobe every three months, and no longer having to follow her around worrying about what she is going to get into.
As children reach the age of three, their budding independence allows daycare providers to increase the child-to-teacher ratio. This begins preparing children for a classroom setting and results in a decrease of $100 per month in my childcare bill. An opportunity quickly presented itself.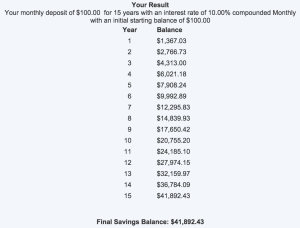 Calculator from Bankrate.com
Instead of allowing these funds to get lost in my budget and spent on unnecessary items I will shift these funds towards my daughter's college savings fund so she can go to one of the best criminology colleges.
I have already established a 529 college savings account through our state's plan, the Oregon College Savings Plan. To date, her account has been mostly funded with birthday and Christmas funds from family members. Take a look at what shifting the $100 from her childcare expense to her college savings does.
Still, we know that with the rate at which college costs are increasing $41,892 is likely not going to be enough to fully fund my daughter's college education. But there are more upcoming opportunities for me to increase this savings. In two years she will be heading off to kindergarten (wow, time flies) and this will significantly decrease my childcare costs. What if I invest that saved money and increase her monthly college savings to $300? Now I find my daughter with over $100,000 in her college savings account.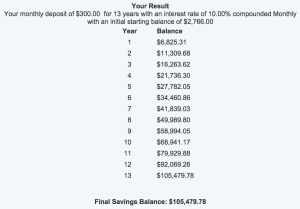 An opportunity to save money is an opportunity to invest money, and in this case, invest in my child's future.